Top Endodontist in Colorado Springs
Advanced Endodontics has been awarded top endodontist by Colorado Springs Style magazine for the fourth consecutive year. This year, because he received more votes than any other Colorado Springs endodontist, owner Jack Mayhew, DMD, MS, is featured on the front cover.
Style's May–June issue reads, "Voting was held online from March 1-15, 2017. Dentists who visited the site were instructed to vote by entering up to four names under general family dentistry and one each in all remaining categories. Those nominated reflect the doctors they would refer a friend or family member to, should the need arise." The articles goes on to state, "Once the ballots were complete, each nominee was carefully evaluated on the basis of the survey results, the legitimacy of their license, and their current standing with the Colorado Springs Dental Society."
We are proud to have received more votes from our peers than any other endodontist in Colorado Springs. Our goal is to provide our patients with the best endodontic care possible. We are committed to being an enthusiastic team, excited about caring for our patients and promoting the life of their teeth. We treat our patients with utmost respect and are clear in communications regarding treatment, and fees. We will continue to enhance our quality of care through investment in technology and continuing education.
We have early morning appointments available and we take care of emergency treatment the same day. Extra care is taken to be gentle and to put you at ease. Care of our patients is our main concern. We are here to take care of you!
Why Do I Need an Endodontist?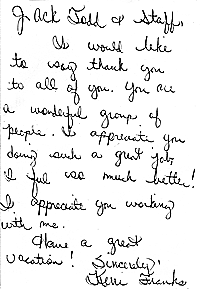 Although many family dentists may perform root canal procedures, your dentist feels that your case requires the attention of a endodontic specialist.  Endodontists are dentists who have undertaken additional training in root canal treatment and other procedures involving the pulp or the inner tissue of the tooth.  They are experienced in treating complicated cases, diagnosing and relieving oral pain and treating traumatic injuries to the teeth.  By referring you to a specialist, your family dentist is demonstrating a personal concern for the quality of your dental care.
What Is Root Canal Therapy?
Root canal therapy (endodontics) is devoted to the elimination of infection or inflammation inside the roots of pulpally involved teeth.  The pulp (nerves and blood vessels) may be irreversibly damaged by bacteria associated with decay (past or present), by traumatic blow or by gum disease.  Root canal therapy allows you to retain the natural tooth in a healthy state rather than substituting an artificial one.
What Is Involved In Root Canal Therapy?
Treatment is usually accomplished in one visit.  Since endodontics requires a precise and exacting technique, occasionally more than one visit may be necessary.  The visit will usually consist of:
Opening, cleaning and disinfection of the canals.
Shaping the canals to receive the root canal filling which seals out mouth fluids and bacteria.
Will The Treatment Be Painful?
We have the means to control pain and discomfort; therefore, you need not be apprehensive.  We will make every effort to provide for your comfort and well being.  The manipulation of the root canal during treatment may cause the tissues around the tooth to be bruised.  This may cause your tooth to be sore for a few days, especially to touch and chewing.  This is usually minimal and can normally be controlled with aspirin, ibuprofen or acetaminophen.
What Is The Prognosis Of Root Canal Therapy?
Studies have shown modern endodontic therapy to be successful in over 95% of cases.  No tooth will be treated unless there is a good chance of success.  While there is not certainty concerning healing, we do expect this to occur in almost all cases; if not, you will be so informed.
After Root Canal Therapy
Endodontics is the only type of treatment rendered in this office.  Therefore, it is important that you CONTACT YOUR FAMILY DENTIST so he or she may restore the crown of the tooth with a permanent filling or crown (cap).